W
e are a tuition free public charter* school open to all students grades 6 to 12.
At Career Pathways we offer 3 kinds of learning:
PERSONALIZED: Individualized Learning, Graduation Plans, and PSEO;
EXPERIENTIAL: Hands On, Internships, and Work Credit;
BLENDED: 24/7 Learning Options.
Career Pathways
We provide opportunities for students to explore career pathways while preparing them for college.  Our staff assists high school students with the transition to college or career with trips to work sites, trade schools, college campuses, tips for ACT testing, and how to find scholarships that pay for higher education.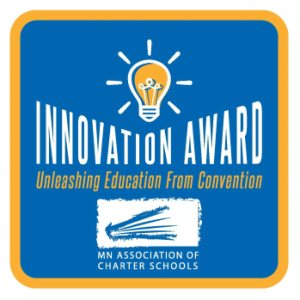 Innovation 
In 2019 Career Pathways was recognized by the Minnesota Association of Charter Schools for Different and Innovative Teaching Methods. Click here to see a link to our Innovation Award Video.
We follow the Minnesota Department of Education's Public School State Standards.
"It is diverse, it's unique, challenging at times but fun." ~ student responding to a question about why they like Career Pathways
Authorized by Minnesota Guild of Public Charter Schools
Career Pathways is Minnesota Department of Education School District 4237-07